Dear AEGEEans,
happy May! Finally we have reached spring and we hope that all over the Network the sun shines as brightly as for us!
With this newsletter, you will receive updates on our work with the Council of Europe, the famous SU project, as well as the YO-Fest and other external opportunities for you!
Enjoy your read!
Yours,
Comité Directeur
News from AEGEE
Identity of AEGEE: have your say!
Do you want to have a say on what AEGEE should be?
What should AEGEE stand for as an organisation?
We have started reflecting together on this last autumn. After summing up the first round of consultation, we have now prepared the second survey.
It is time for you to it in: http://goo.gl/RtsZG
When you do so, think big, be creative and don't let yourself be limited! We are looking forward to all of your answers!
AEGEE-Europe elected for the Advisory Council on Youth of the Council of Europe
In the COMEM (Council of Members) of the European Youth Forum which happened a few days ago in Brussels, AEGEE-Europe was elected to represent the Member Organizations of the European Youth Forum (YFJ) inside the Advisory Council on Youth of the Council of Europe for the next 2 years.
The Advisory Council on Youth is a body representing International Youth Organisations and National Youth Councils, which has a co-decision power on all the policies and intiatives dealing with Youth inside the Council of Europe.
These are great news for our organisation. Read more about it in the AEGEEan magazine:
http://www.zeus.aegee.org/magazine/2013/05/02/aegee-europe-to-represent-the-yfj-in-the-advisory-council-on-youth/
If you want to know more about the Advisory Council on Youth of the Council of Europe check this link:
http://www.coe.int/t/dg4/youth/coe_youth/advisory%20council/Advisory_Council_on_Youth.asp
Summer Universities 2013
The application period of the Summer Universties 2013 finished and the final numbers are impressive! In total there were 4155 applications for 2189 avaiable places, which means roughly two application per place. Most applications came from AEGEE-Budapest (252), followed by AEGEE-Praha (141) by Antenna .
Have a look at the statistics & record page for full info:
http://www.projects.aegee.org/suct/su2013/statistics2013.php
On 2th of May the preselection finished and the results were sent to organizers and to participants. You can find result of your application in the section "Check application status" or on this link:
http://www.projects.aegee.org/suct/su2013/application.php
Youth Rights Campaign event in Strasbourg
Last week AEGEE-Europe organized an event in Strasbourg in the European Youth Center of the Council of Europe, bringing many different international organisations to draft a campaign on Youth Rights in Europe.
As you might know, AEGEE-Europe participated in the 9th Council of Ministers on Youth of the Council of Europe in Saint Petersburg, Russia, last September, where we protested against the violation of certain Human and Youth Rights like freedom of expression. During this event no agreement was reached by Member States on common recommendations on youth issues in Europe, which is why it was considered as a failure buy the Council of Europe.
As a follow-up, we decided to draft a common campaing of youth organisations, promoting youth rights to member states as well as to young people in all European countries.
We counted on organizations like JEF, YEU, OBESSU, AEGEE, TEJO, EFIL, Belgium National Youth Council (Flemish), Portuguese National Youth Council, European Youth Forum, Advisory Council on Youth of the Council of Europe, UNEP, ELSA and IGLYO to help us to make the best campaign possible.
The campaign will be named Youth Rights.NOW
Very soon it will be launched. We will call for Member States of the Council of Europe to create a Legal Binding Framework inside the Council of Europe for Youth Rights to be respected and recognized all the countries as well as calling young people around the continent to take action.
Read more why Youth Rights need action now:
http://www.youthforum.org/youth-rights-need-urgent-action-now/
Luis panelist in the "Relauching Europe" event of the S&D Group of the EU Parliament in Sofia, Bulgaria
Our president Luis participated in the "Relauching Europe" event of the Group of the Progressive Alliance of Socialists & Democrats in the European Parliament in Sofia, Bulgaria. He participated in a pannel on the topic of Education, Mobility and Skills as a way to tackle the high levels of Youth Unemployment. Luis shared the pannel with other high level speakers such as Hannes Swoboda, President of the S&D Group of the European Parliament, Sergei Stanishev (President of the Party of European Socialists (PES), Katarina Nevedalova (Member of the European Parliament and Vice President of the PES, Thomas Maes (Secretay General of YES) and many others.
AEGEE-Europe in the spotlight of the second biggest and most influential political group in the European Parliament, asking us to give input in topics such as Youth Unemployment, the new Youth Guarantee, Mobility, Skills and Education.
The AEGEEan Section
AEGEE and Science, let the love story revive!
As a young researcher interested in how the world works, I have always been surprised by the limited amount of science-related events we have in AEGEE. While it is true that our members are mostly studying social sciences and languages, this should not keep them from being curious. Science can be a great fun, specially when dealt with in a non-formal way! We have a big deal of members studying almost all scientific disciplines, with the knowledge and a passion for sharing.
Read more: http://www.zeus.aegee.org/magazine/2013/04/21/aegee-and-science-let-the-love-story-revive/
AEGEE-Patra bringing Agora home to its roots
It came as a little surprise to many that next Spring Agora organiser will be AEGEE-Patra. Representatives from the antenna already told The AEGEEan about their plans, when they were elected as Local of the Month and in Mannheim it was announced that they will indeed be the hosts next year.
Read more: http://www.zeus.aegee.org/magazine/2013/04/28/aegee-patra-bringing-agora-home-to-its-roots/
Go for EBM Lublin 2014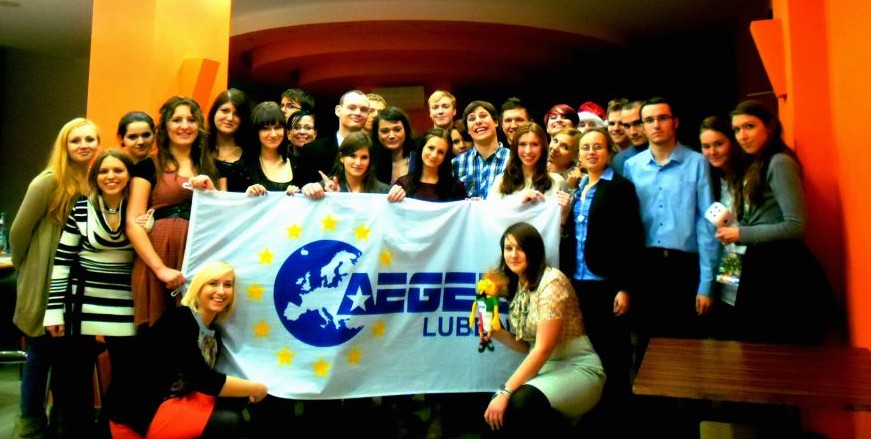 During the Spring Agora Rhein-Neckar, it was confimed that the next EBM will be organized by AEGEE-Lublin. Lublin is a Polish city situated in the south -east of the country , it's one of the major cultural centres of Poland and this is shown by the fact that the city is a candidate for becoming European Capital of Culture in 2016. We asked the happy team some questions about the event they are organising.
Read more: http://www.zeus.aegee.org/magazine/2013/04/17/go-for-ebm-lublin-2014/
Kicking the Ball Against Racism
While many AEGEE members were spending their time green travelling with the destination Mannheim, the Sports Working Group (SWG) was hosting a football tournament for the ones already in the city.
The idea behind the active afternoon was not only to raise awareness about physical activity but also to inform members about the topic of racism in sports. In a collaborative project between the SWG and Policy Officer Stephanie Müller, Agora Rhein-Neckar was used to consult AEGEE members about racism.
Read more: http://www.zeus.aegee.org/magazine/2013/04/26/kicking-the-ball-against-racism/
Beyond AEGEE
New Media Summer School 2013

New Media Summer School will bring together 32 young people from 32 countries prior to the European Dialogue on Internet Governance (EuroDIG) 2013 in Lisbon (Portugal) between 20th and 21st June 2013 in order to develop the field of internet governance bringing forward the opinion of young people from different regions in Europe and its surrounding areas.
The event aims to develop young people's competences on internet governance issues, make the voice of young people heard and provide them a chance to participate in IG debate. It is organised my consortium of 5 International Youth Organisations Youth for Exchange and Understanding International, AEGEE, JEF, European Youth Press and Federation of Young European Greens and coordinated by European Youth Forum.
Read more at: http://applications.digitalyouth.eu/
European Youth Forum – Youth Policy Watch
In this issue, read about the effects of youth unemployment in Europe, a review of the Irish Presidency and what the Domestic Workers Convention could mean to young people if implemented.
Read more: http://hosted.verticalresponse.com/643298/b4ace5c040/286453933/a80c9a7db4/
Get ONE of 100 FREE InterRail tickets to YOFest
The new edition of the Yo Fest, organised by the European Youth Forum is set!
Don't miss this opportunity, They will have a succession of debates, competitions, games, screenings, discussions and of course some music… and more! There will also be stands, a hall of mirrors, a circus tent and some flying objects!
Apply here till 6th of May: http://database.youthforum.org/public/event-details/event/386
Help in supporting the Erasmus programme!
Fraterinte 2020 is a European Citizens initiative aiming at supporting the Erasmus programme in the context of the negociation of the EU budget for 2014 – 2020. The goal is to get 3% of the EU budget for these programmes (currently the share is only 1.6%!).
What Fraterinte 2020 wants:
Making more funds available for EU exchange programmes.
Making sure programmes develop more skills among the participants.
Tracking progress in the field of mobility through better monitoring.
AEGEE is supporting the initiative, and encourages you to contribute to this important call, by signing the petition and helping to reac the 1 Million people.
You can sign Fraterinte 2020 here: http://sign.F2020.eu
External Opportunities
ThinkYoung invites you to their Entrepreneurship Summer School
ThinkYoung organizes the 4th edition of the Entrepreneurship Summer School. This event allows young people to gain first hand knowledge regarding business start-ups. There will be real life entrepreneurs who will pass on experience directly to participants! Besides, participants will have an exclusive opportunity to present their business ideas to investors.
Participants will also have the unique opportunity attend a conference at the European Parliament and engage in a debate with Members of European Parliament about entrepreneurship.
The programme will last 5 days, from the 8th till the 12th of July 2013.
Spaces are subjected to CV and motivation letters and are based on a first come first served basis. Participants can either apply online on the website or send their CV and motivational letter to schools@thinkyoung
Read more: http://www.entrepreneurshipsummerschool.com.eu
ESTIEM Summer Academy
ESTIEM Summer Academy Team would like to invite you to attend one of the most special and unique event of ESTIEM: Summer Academy 2013! The ESTIEM Summer Academy gives you a chance to spend two weeks on developing your leadership and personal skills while being mentored by two Academic Leaders of ESTIEM: Dietrich Brandt from RWTH Aachen and Jim Platts from University of Cambridge.
This year you can apply for:
Dietrich Brandt's Summer Academy in Gdansk
Jim Platts' Summer Academy in Vilnius
To get a place at the Summer Academy it is necessary to prepare a CV, write a motivation letter and email it to apply.sac@estiem.org. The Academic Leader of each event will choose the participants based on the motivation letter.
You will find all the needed information here:
https://www.estiem.org/default.aspx?PageId=543
Traineeships in the European Parliament
Parliament offers several options for traineeships within its Secretariat, to provide opportunities for vocational training and for learning more about what the European Parliament is and does.
The traineeships may be paid or unpaid and are of the following types: a general option, a journalism option and traineeships for translators.
When applying online, you have a maximum of 30 minutes to complete each page of the application form.
Application period: 15 March – 15 May (midnight)
Read more: http://www.europarl.europa.eu/aboutparliament/en/007cecd1cc/Periodos-de-pr%E1cticas.html
Job Opening at Study Portals
Our Partner StudyPortals currently has an interesting position as a User Experience Manager available.
From acting as a critical client to the in-house design and software development team till constantly improving the quality of all content, as User Experience Manager you are involved in the development of all of our online products and services. It is your job to identify and grab opportunities to improve the experience of millions of visitors from all over the world. This is an exciting opportunity to work in an entrepreneurial atmosphere and with a highly motivated, quickly growing, international team.
Find more information about the job here: http://www.studyportals.eu/careers/374/user-experience-manager.html
And send your application, including CV and motivation letter, to jobs@studyportals.eu.